The 11th International Conference on Cultural Policy Research (ICCPR 2020)
"Resilience of Cultural Policy"
23rd – 26th March 2021
In association with the Japan Association for Cultural Policy Research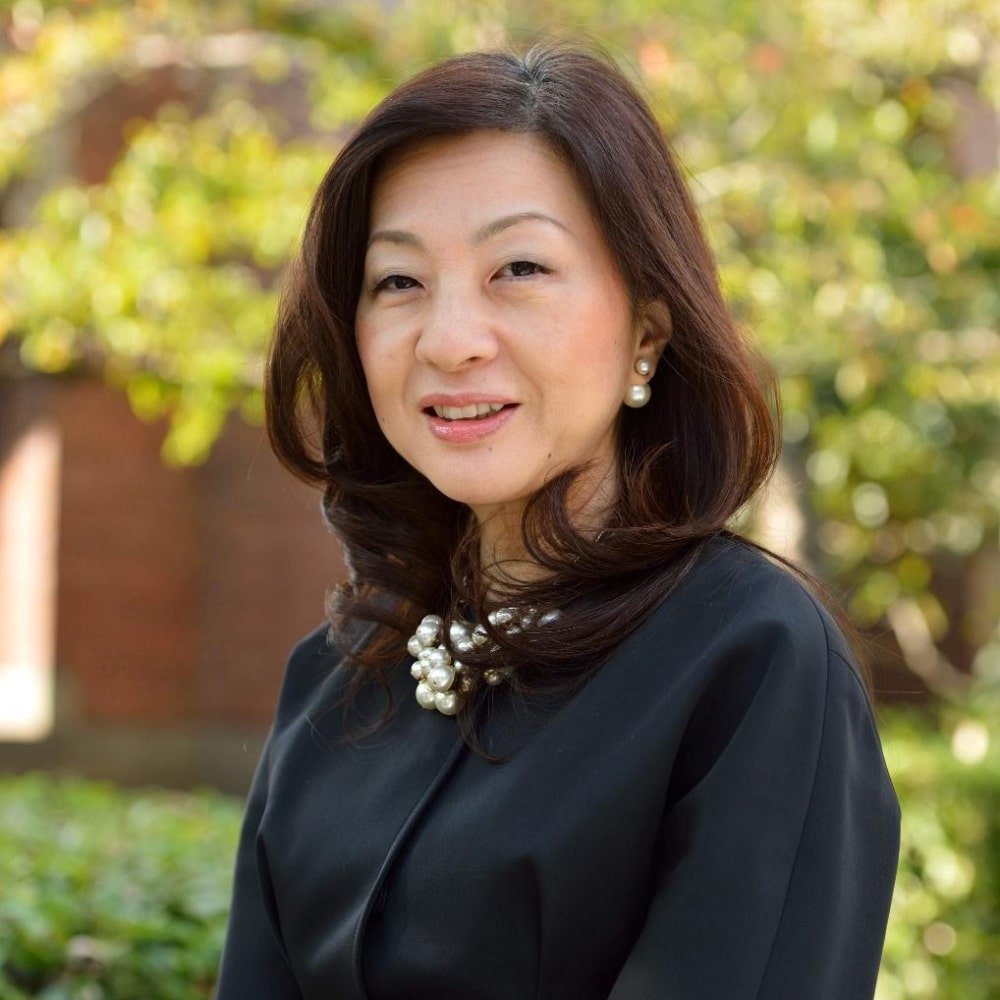 Welcoming Message from the Organising Committee in Japan Nobuko Kawashima, Doshisha University
Welcome to ICCPR online. The past twelve months have been, for all of us in the world, of enormous pressure, upheaval and challenge. The Japanese team had been working to make the conference in Kyoto in September 2020, a time when the excitement of the Olympic and Paralympic Games of Tokyo should have calm down. But this turned out to be impossible, and the postponement of the conference only half a year did not work, either. Hereby, we at ICCPR are meeting online for the first time. Although many of us are already used to attending conferences, meetings and seminars online, for ICCPR, this is still a challenge.
In preparing for the conference, I have confirmed time and again that what we do is only to provide infrastructure and it is you, participants, who can make it great, memorable and meaningful. Paper and panel presentations as well as lively discussions with the 'floor' will be the most important for the value of the conference. Your use of REMO during breaks will also be highly encouraged to meet new fellow researchers and exchange words with your colleagues from different parts of the world.
We also present a couple of original contents, including three plenary sessions—including a symposium that has a live, Q&A time—and a short written text by me withs lots of pictures that introduces the response of cultural policy in Kyoto to the pandemic (due to be uploaded in the week preceding the conference).
The format of running sessions almost all day seemed crazy at first, but this is the best to ensure that you can attend some sessions during a day wherever you live, which also enables the dual function of providing safety for paper presentations and allowing a certain degree of liveness at the same time.
Needless to say, the past twelve months have severely hit the cultural sector that we all care about. Our research activities, too, have been affected, which in turn has made us reflect on what our research of cultural policy is all about. I find it miraculous and encouraging that many of you are so enthusiastic to have this opportunity to present your works and learn from each other. I do hope you will enjoy this online conference—in a different way from the on-site one, but with the same degree of satisfaction.
Lastly, we apologise if you have experienced any difficulties, inconvenience or frustration with the system and management of the conference. I am aware that we have been less than perfect, as unexpected delays and complications occurred partly due to Coronavirus, and just hope things will be fine during the period.
The site for Interactive Conference Programme with links to Zoom, Remo, Abstracts and Full Papers is now open.
The site is the portal to guide you through all the features of the conference.
* Participants Only
Conference Detail added to the Programme Page
We are trying to make your ICCPR 2020 experience as interactive as possible and some of the details for those efforts are now available on the programme page.
New and Extended Deadline for Early Bird
The deadline for Early Bird is extended by a week to Jan 15 23:59 JST. Please be noted 1)deadline is defined by JST (UTC+9) and 2)you must complete not just the registration but also the payment to be eligible for the Early Bird pricing. So please act early to take advantage of this Early Bird extension.
Programme now available
The conference timetable as well as the paper/panel assignment to the sessions are available on the Programme page. Please be noted both the timetable and the paper/panel assignment are NOT final. Let us know if the assigned time slot for your paper/panel does not work for you. Our intention is to have real time sessions while acommodating as many time zones as possible. Therefore the time table is rather wide spread than we normally have in the physical venue.
Registration is now open.
We encourage you to visit our registration site now to register from the link below.
Early Bird registration ends on January 8th, 2021.
Online Conference Outline
As we have already announced, the upcoming ICCPR will be held between March 23-26, 2021 and all online using zoom. To avoid confusion, we still call this conference ICCPR 2020. Here is the basic outline. The conference will include some kinds of live interactivity.
Basically, we will run parallel paper sessions (3-5 including panels) from 6am to 10:30pm (both in Japanese time, from 9pm the previous day to 1.30pm next day for GMT) in 6 time slots per day. Each session is for 90 minutes for three papers, followed by a 90-minute break. This may look unrealistic, but people from anywhere in the world can participate in 60-80 % of those scheduled sessions and panels within the reasonable times of a day (please also see the point 6 for activities in-between). Sessions will be recorded and made available for later access by participants.
Individual papers need to be pre-recorded and submitted in advance so that presentations will be safely delivered live by our technical staff. Presenters, designated commentators, the chair and any interested participants should come to the session via zoom and the rest is the same as we do the conference on-site. Details will be given later. The requirement for full paper submission by January 10, 2021 is unchanged.
Panels for which proposals are accepted will also need to be pre-recorded and submitted in advance. The pre-recorded talks must be within 50 minutes, leaving 40 minutes for live discussion via zoom with those interested participants.
In allocating paper sessions and panels to specific time slots, we will consider the time zone of where people will be participating from.
Young Researchers' Workshop will be held live on-time via zoom. Full paper submission is required by January 10, 2021.
Between the sessions, there will be 'lounges' where informal meetings and chats can be held.
We will develop plans on these in the coming months. Please note that the above is not the definitive version and there may be some changes.
We suggest you register as soon as possible to take advantage of discounts (available until January 8, 2021). We ask those with academic posts to encourage their students to participate as the fees for them this time are reduced for the purpose of making the experience of international conference on cultural policy research particularly accessible to them.
Category
Rate (Japanese Yen)
Non-Student early-bird
21,000
Non-Student
26,000
Student, early-bird
10,000
Student

Student

14,000

14,000


Early Bird price applies to students till the end of the registration peroid.
ICCPR in Kyoto will go online
With all regrets, we are announcing our decision that the next ICCPR postponed to March 23-26, 2021 will be all online. In light of current situations concerning COVID-19 and corresponding uncertainties that remain globally, we have come to think that it is unrealistic and risky to have an onsite, international conference in the coming months in Japan.
How we organize an online, international conference will be worked out during fall. Details will be posted on this web site as soon as the information becomes available.
New deadline for full paper
Please prepare and submit full papers onto the system between November 1, 2020 and January 10, 2021. The details of the full paper requirement are uploaded on the website. The system to which submission should be made will be made available later.
Important Notification
Dear Colleagues,
Given the complexity of the situation and the rapid spread of the Corona Virus, the local organiser and the Scientific Committee of ICCPR have decided to postpone the 11th International Conference on Cultural Policy Research to a later date.
We are currently looking at new options including the new dates in spring 2021 and will come back to you as soon as possible with further information.
We sincerely regret and realise the inconvenience this decision causes to all of us. Considering a lot of interests expressed by you in attending the conference and the impressive quality of proposals submitted, we would very much like to hold the ICCPR when we can.
Those proposals that have been accepted will remain as such. Some of you may want to change the content, but whether that will be allowed, as well as other details, are to be decided later.
You can send enquiries to us, but unfortunately beyond what is included in this update, we do not feel we have much to tell for the time being.
Organisers, ICCPR 2020 and the Scientific Committee of ICCPR
Conference schedule update from the local organizing committee
The local organising committee of ICCPR 2020 has been keeping track of the developments surrounding the spread of the Corona/COVID-19 virus. Currently this is affecting a number of conferences and events worldwide, and a number of organisations and universities have likewise stopped international travel for the time being. We are observing the situation closely and are evaluating the potential impact on ICCPR 2020, scheduled on September 1-4 at Doshisha University in Kyoto, Japan.
At present, planning for this conference continues. However we are aware that the situation is evolving rapidly. We are keeping a close watch on recommendations from the World Health Organization and travel restrictions from various affected countries as well as the Japanese government's travel advice. The health and safety of our attendees is of utmost importance, and we will consider all options and develop contingency plans.
For now we are continuing preparations for the conference for its intended dates, but because of the current uncertainties, we are not starting the system for registration and fee payment. We hope to announce our final decision by the end of April by email, on the website and Facebook.
We advise all conference participants who have not yet booked their travel and accommodations to hold off the booking until a definite decision is announced. We hope that everyone understands that these are exceptional circumstances.
We hope all of you to keep well.
Organisers, ICCPR 2020
同志社大学経済学部 河島伸子
Nobuko Kawashima, Doshisha University
Important Dates
| | |
| --- | --- |
| Submission of proposals opens | October 15th, 2019 |
| Deadline for submission of proposals | January 20th 23:59 GMT, 2020 |
| Review results released | March 4th, 2020 |
| Deadline for submission of full paper | January 10th 23:59 GMT, 2021 |
Peer review results avialable:
We sent out peer review results by email. If you haven't received the result yet, please inquire by email to the following address. iccpr2020-mng@ml.gakkai.ne.jp
New Extended Deadline for Submitting Proposals:
Submission deadline extended to January 20, 2020, GMT!
We will accept proposals for all categories until January 20.
Detailed instructions for full paper is available here.
Call for Proposals
Theme
The theme of ICCPR 2020 is Resilience of Cultural Policy. In the rapid globalization and digital transformation of recent years, one major challenge for cultural policy seems to be how best to maintain or strengthen regional, local or various representations of communities' own culture. Cultural policies of many nations, in the meantime, are increasingly expected to work with (or for) other policy areas such as economic development, social inclusion and urban planning. Is such an approach to cultural policy crossing many policy areas negatively affecting 'cultural policy proper' concerns? Was there any time in history when cultural policy was independent, autonomous and detached from socio-economic aims of government? To what extent is cultural policy of today 'resilient', or should it be so? 'Resilient' to what forces and in what directions? These are some of the issues this conference would like to address with invited guests and participants from all over the world.
Scope
ICCPR 2020 invites participants to present papers from across the entire spectrum of cultural policy studies. This includes, but is not limited to the following:
Cultural policy and globalisation
Cultural policies of migration, identities and acculturation
Cultural policy, religion and secularism
Cultural policy and global governance of networks and platforms
Global governance of cultural content, service and labour flows
Management and global governance of cultural data
Politics of culture and cultural policies in multiple modernities
Cultural policies and global inequalities
Governance of cultural diversity
Cultural sustainability policies
Culture in environmental policy
Intellectuals and cultural policy
Cultural policy and values
Historiographies of cultural policy
Implicit cultural policy
Comparative cultural policy
Arts education policy
Cultural policy and cultural industries
Artist policy
Creativity and the city
Cultural policy and development policy
Cultural policy as welfare policy
Culture and economy
Cultural policy and innovation systems
Cultural policy, cultural diplomacy and international relations
Proposal Categories
Single papers
Panel proposals
Papers for Young Researchers' Workshop
Guidelines for proposals
Single papers
The proposal must not exceed 500 words (excluding the reference list) and should include the following:
Research questions that the paper will address
Methodological approach
Results
Description of what is original about the research
Panel proposals
Panels should involve between three and five speakers (we recommend four). The proposal must not exceed 1000 words (excluding the reference list) and should include the descriptions of the core idea for the panel as well as short descriptions of all included papers (please aim to follow the guidelines for single papers above).
Young Researchers' Workshop for postgraduate students (Masters' and early Doctral)
ICCPR 2020 will launch a new pre-conference workshop for younger researchers. Please download the details and read them carefully if you are interested.
The proposal must not exceed 500 words (excluding the reference list) and should include the following:
Research questions that the paper will address
Methodological approach
Results
Description of what is original about the research
Download for Additional detail for Young Researchers' Workshop.
All submissions must be in English and will be peer-reviewed.